The Salento Peninsula, also called Terra d'Otranto, stretches between the Ionian and the Adriatic seas covering a surface of more than 5500 square kilometres. It comprises the area that goes from just south of the Gulf of Taranto to the Otranto Channel and seems to offer itself as a landing for the east.

This land is veiled by luxuriant olive trees and florid vineyards that lie on more than 200 kilometres of coast. Mainly level, the coastline is occasionally interrupted by fairly tall rocky cliffs that plummet into sea generating the striking Murge Salentine.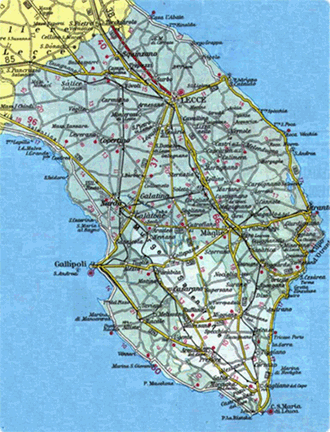 A picture so finely delineated in all of its detail could not lack a variety of ornament, from which different styles and patterns originated. Here we have the presence of Byzantine Baroque together with Roman times. All these relics are connected to our ancestors and even more to our eastern and western rules.
But isn't only art, history and culture that bring every year million of tourists to this awe-inspiring land. The stunning landscapes have as a background spectacular dawns, enchanted sunsets, pine tree forests and never-ending beaches. The coastline of white sand with black streaks is surrounded by cliffs bathing in a crystal clear sea that turns it all into a miniature Heaven on Earth.