Laura Pausini (Italian pronunciation: [pau.ˈziː.ni]), omri, (born 16 May 1974, Solarolo, Ravenna) is an Italian singer–songwriter and record producer signed to Warner Music Group since 1993.

She rose to fame in 1993, winning the newcomer artists' section of the 43rd Sanremo Music Festival with her debut single "La solitudine", which became an Italian standard and an international hit, topping the charts in Italy, the Netherlands and Belgium. Her eponymous debut album was released in Italy on 23 April 1993 and later became an international success, selling two million copies worldwide.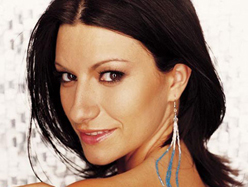 Laura Pausini

Its follow-up, Laura, was released in 1994 and confirmed her international success, selling three million copies worldwide. During the same year, she released her first Spanish-language album, Laura Pausini, composed of ten adapted songs originally included in her previous works.